Donna's poem "Colosseum" is part of the Martin Lake Journal, vol. 3, 2020.
Dakota County Library Poetry Contest.
Poets of all ages submitted original poems during the month of April. Haiku, free verse, odes and sonnets – no matter what their poetry style, all were celebrated at Dakota County Library's annual poetry contest. Donna Isaac receive 1st Place in the Adults: Ages 19 and Older category for her poem "Pandemic."

Donna's poem "Off" will be part of the 2020 Minnesota Voices Poetry Collection. It will also be available for viewing online or contact Wadena County Historical Society, 603 Jefferson Street N, Wadena, MN 56482, 218 631-9079.

Donna's poem,"Markings" will be published by Streetlight Magazine, May 2020.

Donna's poem "Tripartite Threat" will be published in an e-book, "Art in the Time of Covid-19" (San-Fedele Press), late June 2020 publication date.

Donna Isaac's poem "Is this the zombie apocalypse everyone talks about?" will be published in Whistling Shade, Spring/Summer issue due out May 2020.



The Poetry Society of Va. announced the winners of their national poetry contest April 2020.

Donna

Isaac's poems won the following awards.
--1st place, Carleton Drewry Memorial Award for her poem "Rustica"
--2nd place, Brodie Herndon Memorial Award for her poem "Hero"
--Honorable Mention, Nancy Byrd Turner Memorial Award for her poem"Coitus Interruptus"
--1st place, Judah, Sarah, Grace, Tom Memorial Award for her poem"Helping Out"
--1st place, Miriam Rachimi Memorial Award for her poem "After Chores"
--3rd place, Ann Spencer Memorial Award for her poem "Meditation"
The 2020 contest anthology will come out in the fall, as The Poetry Virginia Review 2020.
Here are a few of the judges' comments about her work:
1) "Meditation pays homage big time to the Symbolists, and how can that ever be a terrible thing? I'm drawn to the quirk and the twist of expectation."
2) "Congratulations on your poem "Hero", which I am pleased to select as Second Place Winner in the Poetry Society of Virginia's Brodie Herndon Memorial contest, for poems on the topic of Heroism. Excellent. The poem is... powerful,...memorable. I loved it."
3) "After Chores" is moving in its restraint, and for its vivid thumbnails of a past shared by the speaker and the one they mourn. The turn from the scene of death to the surprising and unexpected recollection that finishes with "the earth moving below" is both potent and electric."
4.) "With muscular language, the first place poem, "Rustica," captures generational breadth and cultural identity with the crafted use of specific, memorable imagery, as well as thoughtful references that evoke the ancestors as well as the speaker with their strength, survival, and joys."
The Exposition Review will publish "12 movements: looking for love da, da, da" for publication in their upcoming "Act/Break" issue spring 2020
Wraparound South will publish "All Raccoons," "Pictures, and "Secret Sharers" by Donna Isaac in their spring 2020 edition.
Donna's poem "Story" was published by Earth Hymn: KYSO Flash Anthology 2019.
"The Play is Not the Thing," an essay about a failed field trip, was accepted for publication by Kappan and will be available in their March 2020 issue.
"D

owntime" will be published in The Whitefish Review, 24th issue, "Awakenings," December 7, 2019.
Donna's work won the following awards at the League of Minnesota Fall Conference: 1. The Blizzard Writers' Award, first place for "The Art of Hearing"; 2. The Poets Potluck Award, award of merit for "Beach Drama"; 3. The Heartland Poets Award, second place for "Lunar Musings"; and 4. The Moccasin Award, award of merit for "Adrift."
The Very Edge Poetry Collection will publish "Entrepreneur Sans Wall," "Directions," and "Precious Land." The editors write that the poetry has a "fiercely gentle nature...just what we are looking for." This book will be published in the spring of 2020.
Tishman Review will publish the poem "Adrift."
"Memorial Day" will be published in the Spring/Summer 2020 issue of Military Experience & the Arts' on-line journal, As You Were. This poem honors Donna's uncle, Leon Pleasants, Air Force veteran.
Finishing Line Press will publish Donna's chapbook, Persistence of Vision, November 2019 and is now offering prepublication ordering (July-Nov.) by sending $13.99 plus shipping (check or money order made out to "Finishing Line Press") to

Finishing Line Press
Post Office Box 1626
Georgetown, KY 40324
Shipping is only $2.99 per copy, ($16.98 total). Or order online. Click and scroll to "Preorder Forthcoming Titles" or "Bookstore." You may search by title: Persistence of Vision. Credit card orders will be processed through PayPal. Preorder ships November 1, 2019.
Persistence of Vision centers on a love for movies featuring 32 original poems and cover photography by Laura Bittle.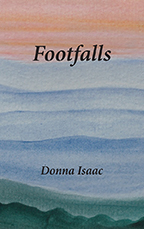 Donna Isaac's first full-length collection of poetry, Footfalls is now available through Pocahontas Press or through contacting Donna at
donna@donnaisaacpoet.com for $20.00. These poems celebrate the people, places, music, and stories of her childhood Appalachian home.