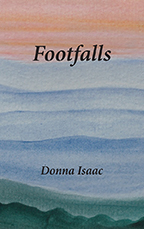 Donna Isaac's first full-length collection of poetry, Footfalls is now available through Pocahontas Press or through contacting Donna at
donna@donnaisaacpoet.com for $20.00. These poems celebrate the people, places, music, and stories of her childhood Appalachian home. A book launch party is in the planning stage for spring 2018.
"Transaction," a prose poem, will be published by Bacopa Literary Review. The print edition will be out in October 2018.
"Elementary School" will be published by Perfume River Poetry Review (Tourane Poetry Press) April 2018, celebrating the theme of childhood.
"September Sky" and "Our Daily Walk" published in In Plein Air--poems and drawings of the natural world by Poetic License Press
The following poems by Donna Isaac received recognition by the League of Minnesota Poets' Annual Awards, 2017: "Remedies" awarded by The Southeastern MN Poets' for first honorable mention; "Shapes and Shadows" awarded by the Lilian Osborne Memorial for third honorable mention; and "The Station off Heisey Avenue" awarded by the Janelle Hawkridge Memorial for second award of merit.
The Martin Lake Journal, 2017 will publish three of my poems: "Dark Death"; "Rise"; and "Constrictions."