Finish Line Press will publish Donna's chapbook, Persistence of Vision, November 2019 and is now offering prepublication ordering (July-Nov.) by sending $13.99 plus shipping (check or money order made out to "Finish Line Press") to

Finishing Line Press
Post Office Box 1626
Georgetown, KY 40324
Shipping is only $2.99 per copy, ($16.98 total). Or order online. Click and scroll to "Preorder Forthcoming Titles" or "Bookstore." You may search by title: Persistence of Vision. Credit card orders will be processed through PayPal. Preorder ships November 1, 2019.

Persistence of Vision centers on a love for movies featuring 32 original poems and cover photography by Laura Bittle.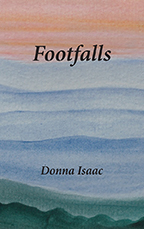 Donna Isaac's first full-length collection of poetry, Footfalls is now available through Pocahontas Press or through contacting Donna at
donna@donnaisaacpoet.com for $20.00. These poems celebrate the people, places, music, and stories of her childhood Appalachian home.