Donna's poem "Story" was published by Earth Hymn: KYSO Flash Anthology 2019.
"The Play is Not the Thing," an essay about a failed field trip, was accepted for publication by Kappan and will be available in their March 2020 issue.
"D

owntime" will be published in The Whitefish Review, 24th issue, "Awakenings," December 7, 2019.
Donna's work won the following awards at the League of Minnesota Fall Conference: 1. The Blizzard Writers' Award, first place for "The Art of Hearing"; 2. The Poets Potluck Award, award of merit for "Beach Drama"; 3. The Heartland Poets Award, second place for "Lunar Musings"; and 4. The Moccasin Award, award of merit for "Adrift."
The Very Edge Poetry Collection will publish "Entrepreneur Sans Wall," "Directions," and "Precious Land." The editors write that the poetry has a "fiercely gentle nature...just what we are looking for." This book will be published in the spring of 2020.
Tishman Review will publish the poem "Adrift."
"Memorial Day" will be published in the Spring/Summer 2020 issue of Military Experience & the Arts' on-line journal, As You Were. This poem honors Donna's uncle, Leon Pleasants, Air Force veteran.
Finish Line Press will publish Donna's chapbook, Persistence of Vision, November 2019 and is now offering prepublication ordering (July-Nov.) by sending $13.99 plus shipping (check or money order made out to "Finish Line Press") to

Finishing Line Press
Post Office Box 1626
Georgetown, KY 40324
Shipping is only $2.99 per copy, ($16.98 total). Or order online. Click and scroll to "Preorder Forthcoming Titles" or "Bookstore." You may search by title: Persistence of Vision. Credit card orders will be processed through PayPal. Preorder ships November 1, 2019.
Persistence of Vision centers on a love for movies featuring 32 original poems and cover photography by Laura Bittle.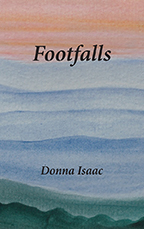 Donna Isaac's first full-length collection of poetry, Footfalls is now available through Pocahontas Press or through contacting Donna at
donna@donnaisaacpoet.com for $20.00. These poems celebrate the people, places, music, and stories of her childhood Appalachian home.