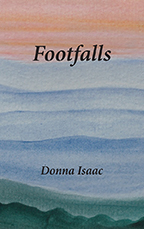 "These poems dazzle and delight...full of home, hurt, healing. Reading them will settle and unsettle you, give you cause to laugh and lament, and realize that Donna Isaac is a clear-eyed, talented poet who invites you to look again at what might seem familiar, shivering in recognition at what you missed the first time. We are lucky to have her poems in the world. I am already looking forward to seeing what comes next." Sandra Ballard, Editor of Appalachian Journal; Listen Here: Women Writing in Appalachia, Appalachian State University

"In Footfalls," her first full-length collection, poet Donna Isaac explores the Appalachian land, people, and music of her Mamaw. "I am in love with this woman.' The love is evident in the careful crafting of poems, and too in her sprinkling of old-time song lyrics within and between poems, providing a trail for the poet and her readers to follow to and from a home now gone." Pauletta Hansel, Cincinnati Poet Laureate

"Footfalls--what a delight! Isaac's open-hearted, open-minded attention to history, personal, cultural, political is moving and inspiring. She honors these memories by going for the details, visions of landscapes, ideal images. Beyond the remarkable stories she tells, is the way she tells them: a bounty of references to great songs that carry the meaing and feeling of this particular Southern history, and the beauty of her structures...we are moved, given access to joy, given clear paths to our feelings of sorrow. This collection will find many readers, and I am happy for every one of them!" Deborah Keenan, author of ten collections of poetry, her latest: so she had the world (Red Bird Chapbooks) and from tiger to prayer, a book of writing ideas (Broadcraft Press)

Footfalls is available for purchase through Pocahontas Press or through Donna Isaac for $20.00.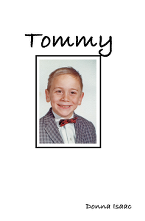 Tommy, an elegiac chapbook, celebrates and mourns a younger brother who died young. Using varied poetic forms, landscape, and memory, poet Donna Isaac takes the readers through a personal and yet universal journey of grief and acceptance. Each poem represents a step that a sister must take to understand that both suffering and joy are necessary for an authentic life. Using imagery of the natural world as touchstones in many of the poems, Isaac connects the beauty of beach, mountain, and flower with the beauty that was her brother.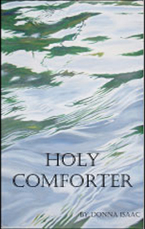 Holy Comforter, a collection of 31 poems reflects a childhood steeped in memories of growing up in Southern landscapes, including the attending of Catholic elementary schools. Lyrically, we hear both the voice of the child as well as the adult writer. Weaving together small snapshots of the people and places long gone with new-found discoveries of spirituality, Holy Comforter resonates with vivid and sometimes startling imagery; varying forms; and a mixture of the comic and the tragic.

The cover art, "Flow" is by artist Cynthia Starkweather-Nelson.
To purchase Holy Comforter or Tommy, download this order form.